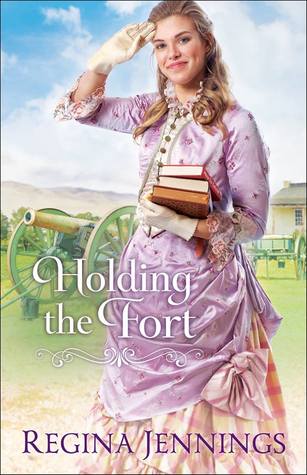 Louisa Bell never wanted to be a dance-hall singer, but dire circumstances force her hand. With a little help from her brother in the cavalry, she's able to make ends meet, but lately he's run afoul of his commanding officer, so she undertakes a visit to straighten him out.
Major Daniel Adams has his hands full at Fort Reno. He can barely control his rowdy troops, much less his two adolescent daughters. If Daniel doesn't find someone respectable to guide his children, his mother-in-law insists she'll take them.
When Louisa arrives with some reading materials, she's mistaken for the governess who never appeared. Major Adams is skeptical. She bears little resemblance to his idea of a governess--they're not supposed to be so blamed pretty--but he's left without recourse. His mother-in-law must be satisfied, which leaves him turning a blind eye to his unconventional governess's methods. Louisa's never faced so important a performance. Can she keep her act together long enough?
Holding the Fort by Regina Jennings is a great start to what is sure to become a new favorite series of mine. Louisa is a character that immediately draws you into her story. The misunderstandings that this book is based on,
dance-hall singer turned
governess,
makes for a funny, compelling read. Holding the Fort is the perfect combination of historical details, lighthearted romance, and hilarious antics. This book is sure to be loved by any fan of lighthearted historical romances
5 out of 5.
I received a copy of this book from Bethany House in exchange for my honest review.