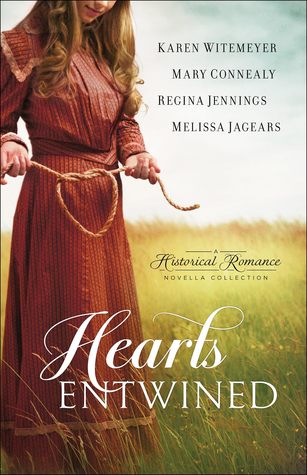 The Love Knot
- When Claire Nevin's troubled younger sibling sends her an unexpected package by rail, the gift and the man who delivers it--an unexpected face from the past--threaten to upend Claire's life forever. Fighting to hold on to all she has built, will she lose what matters most?
The Love Knot by Karen Witemeyer was everything I was expecting from this Harper Station novella and more. I've wanted more of Claire's story from the moment she was introduced in this series and I was not disappointed! The story of
Pieter and Claire's romance and forgiveness is sweet and easy to follow.
The Tangled Ties that Bind
- Connor Kincaid returns home determined to win the hand of the woman he was too young for when he left. But Maggie is training to be a doctor in a distant town, while Connor's about to settle on a ranch. Will either be willing to give up their dream? Or will they both have to give up the love of a lifetime?
The Tangled Ties that Bind
by Mary Connealy was a wonderful read. I loved getting to read Connor all grown up and see how his life ends up. This sweet, humorous story is perfect for any fan of Mary Connealy. (and who isn't?!?!)
Bound and Determined
- As punishment for his recklessness, Private Bradley Willis is sent on an errand to help a retired cavalry officer move a herd across Indian Territory. No one told him the herd would be camels instead of cattle, nor that the officer's headstrong daughter, Ambrosia Herald, would seem to be trying to undermine the whole enterprise. He's definitely been saddled with more than he's bargained for.
Bound and Determined
by Regina Jennings is the perfect story to hold you over until the second book in her Fort Reno series. Full of historical details, romance and humor this story is sure to satisfy any reader.
Tied and True
- Wealthy Marianne Lister is in love with business assistant Calvin Hochstetler, but he can't see past the difference in their social status. When Marianne takes a job to prove that she is prepared for a life of hard work alongside the man of her dreams, will it be enough to convince Calvin to risk it all for love?
Tied and True by Melissa Jagears was a great end to Hearts Entwined. I loved the take on the class divides that were so important back then. I fell in love with Marianne and Calvin's story and only wished it could have been longer!