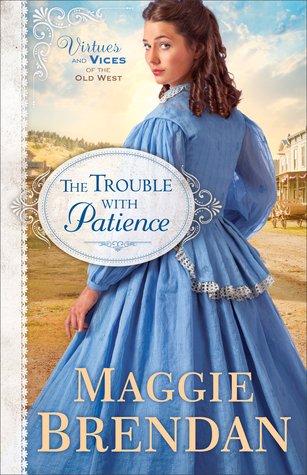 Patience Cavanaugh has lost hope in romance. The man she yearned to marry is dead and her dreams are gone with him. Now she is consumed with the restoration of a dilapidated boarding house in order to support herself. Despite her desire for solitude, Jedediah Jones, the local sheriff with a reputation for hanging criminals, becomes an ever-looming part of her life. It seems like such a simple arrangement: Patience needs someone with a strong back to help her fix up the boardinghouse, and Jedediah needs a dependable source of food for himself and his prisoners. But Patience gets more than she bargained for as she explores the depths of the "hanging lawman"--and finds both betrayal and love.
The Trouble with Patience by Maggie Brendan is the first book in th
e
Virtues and Vices of the Old West
series. I always do love a good old western story and I don't think
The Trouble with Patience let me down in any way. I really felt for Patience character and I loved seeing some growth in her. I also loved the growth that we got to see with Jedediah's character. Stick with this book till the end and I think you'll find it as wonderful as I did. If you love to read sweet romances set in the old west then
The Trouble with Patience is just the book for you.
4.5 out of 5. An wonderful Afternoon Snack.
I received a copy of this book from Revell in exchange for my honest review.