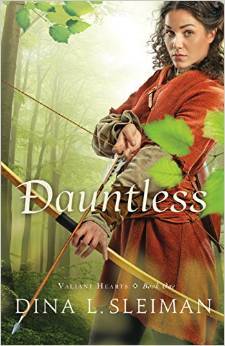 Where Legend and History Collide,
One Young Woman Will Fight for the Innocent
Born a baron's daughter, Lady Merry Ellison is now an enemy of the throne after her father's failed assassination attempt upon the king. Bold and uniquely skilled, she is willing to go to any lengths to protect the orphaned children of her former village--a group that becomes known as "The Ghosts of Farthingale Forest." Merry finds her charge more difficult as their growing notoriety brings increasing trouble their way.
Timothy Grey, ninth child of the Baron of Greyham, longs to perform some feat so legendary that he will rise from obscurity and earn a title of his own. When the Ghosts of Farthingale Forest are spotted in Wyndeshire, where he serves as assistant to the local earl, he might have found his chance. But when he comes face-to-face with the leader of the thieves, he's forced to reexamine everything he's known.
Dauntless by Dina L. Sleiman is the first book in the Valiant Hearts series. This book had me hooked the moment I laid eyes on the cover. I saw it and was like that's it, that's the book I want to review! And it was amazing, I loved the colorful cast of characters and the story line held my attention till the very end! I love Robin Hood so I was a little worried in the beginning that I would be disappointed and it wouldn't live up to my high expectations but there really was nothing to worry about. All readers are sure to love this book but I think that teen readers will especially love Dauntless.
5 out of 5. An adventurous Afternoon Snack!
I got a free review copy of Dauntless from Bethany House Publishers in return for my honest review.