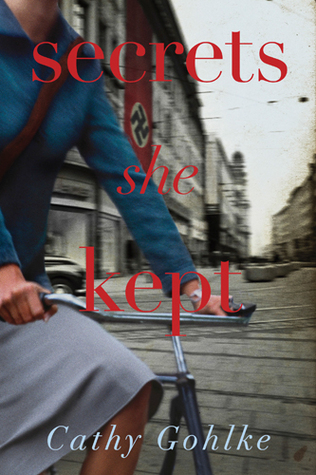 A

ll her life, Hannah Sterling longed for a close relationship with her estranged mother. Following Lieselotte's death, Hannah determines to unlock the secrets of her mother's mysterious past and is shocked to discover a grandfather living in Germany.
Thirty years earlier, Lieselotte's father is quickly ascending the ranks of the Nazi party, and a proper marriage for his daughter could help advance his career. Lieselotte is in love—but her beloved Lukas is far from an ideal match, as he secretly works against the Reich. Yet Lieselotte never imagined how far her father would go to ensure her cooperation.
Both Hannah's and Lieselotte's stories unfold as Hannah travels to Germany to meet her grandfather, who is hiding wartimes secrets of his own. Longing for connection, yet shaken by all she uncovers, Hannah must decide if she can atone for her family's tragic past and how their legacy will shape her future.
Secrets She Kept by Cathy Gohlke was a wonderfully written story that I think you will find captivating. This is one of those books that weaves two different stories together and Cathy does this perfectly. I have to emit that these kinds of books are either hit or miss with me, I either love the whole book or only half of it. Secrets She Kept was a definite hit in my book, I loved both of the stories and the history was amazingly written. The characters were easy to follow and I loved the mix of romance, mystery, and sacrifice.
5 out of 5. A great Afternoon Snack.
I received a copy of this book from Tyndale House Publishers in exchange for my honest review.